More Ripples Programs & Facilities Available from 18 October 2021
Written by

Kate Bradshaw

Ripples NSW

(02) 9833 3000

(02) 9833 3311

ripples@ripplesnsw.com.au

https://www.ripplesnsw.com.au

Charles Hackett Drive

St Marys

NSW

2760

Australia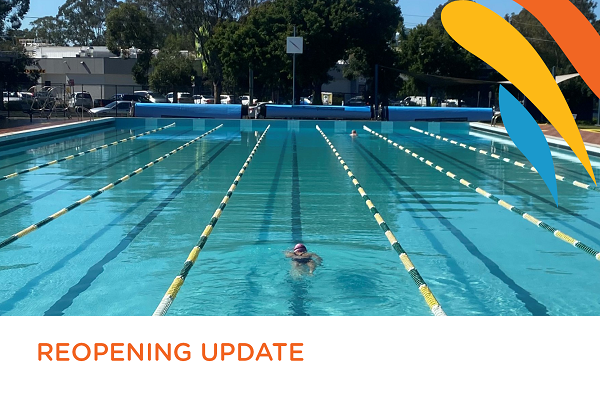 From Monday 18 October 2021, we are pleased to be able to offer an expanded range of programs and facilities in line with the NSW Government's Reopening NSW roadmap.
Improved Access
With restrictions easing, we have been able to remove the need for session times! Now all members and visitors can visit us during our opening hours, no bookings required.
Ripples St Marys
Monday – Friday: 5:30am – 9pm
Saturday: 6:30am– 6pm
Sunday: 7:30am– 6pm
Ripples Penrith
Monday – Friday: 6am– 6pm
Saturday: 6:30am– 6pm
Sunday: 7:30am– 5pm
Ripples St Marys Indoor Pool will reopen for lap swimming. Recreational swimming, including use of the beach area, is not expected to return until December under the current Public Health Orders.
We will still be cleaning throughout the day and capacity limits will apply.
Hydrotherapy
In line with the Public Health Orders and recommendations from ESSA, the Hydrotherapy Centre will be open Monday to Friday, 9am to 5pm, for clients attending rehabilitation services, including those with an external Allied Health Provider.
We expect to be able to open the Hydrotherapy pool for general use by members and visitors in the coming weeks.
Learn to Swim
Our Learn to Swim program will be returning Monday 18 October.
Families who were enrolled prior to lockdown will continue their lessons on the same day, time and level as prior to the Stay at Home Orders. Lesson bookings can be checked online. Your Log In, is your email address, please click 'Forgot Password' to set your password.
If you require further assistance with your enrolment you can get in touch with the Learn to Swim team using the links below;
We ask that you please do not visit the centre for Learn to Swim enquiries at this stage, as under our COVID Safe plan we cannot accommodate extended conversations in the reception area at this time.
Other Facilities & Services
Kids Club, splash parks, kiosk, spa and sauna, and recreational use of the indoor pool will not be available at this stage of the reopening. Further announcements will be made when these recommence.
Change rooms and bathrooms facilities will available, however we encourage people to shower and change at home where possible.
In addition to the in-person services Ripples provides, Telehealth appointments will continue to be available. You can request an appointment with our Dietitian or Exercise Physiologists via our online enquiry form or by emailing

This email address is being protected from spambots. You need JavaScript enabled to view it.

Standard casual entry prices will apply for recreational and lap swimming and general gym usage for non-members. Payment for hydrotherapy consultations and learn to swim classes will return in line with bookings.
---
Information contained within this news release was correct as at 14 October 2021.