Winter Wonderland Safety Week 2022
Written by

Kate Bradshaw

Ripples NSW

(02) 9833 3000

(02) 9833 3311

ripples@ripplesnsw.com.au

https://www.ripplesnsw.com.au

Charles Hackett Drive

St Marys

NSW

2760

Australia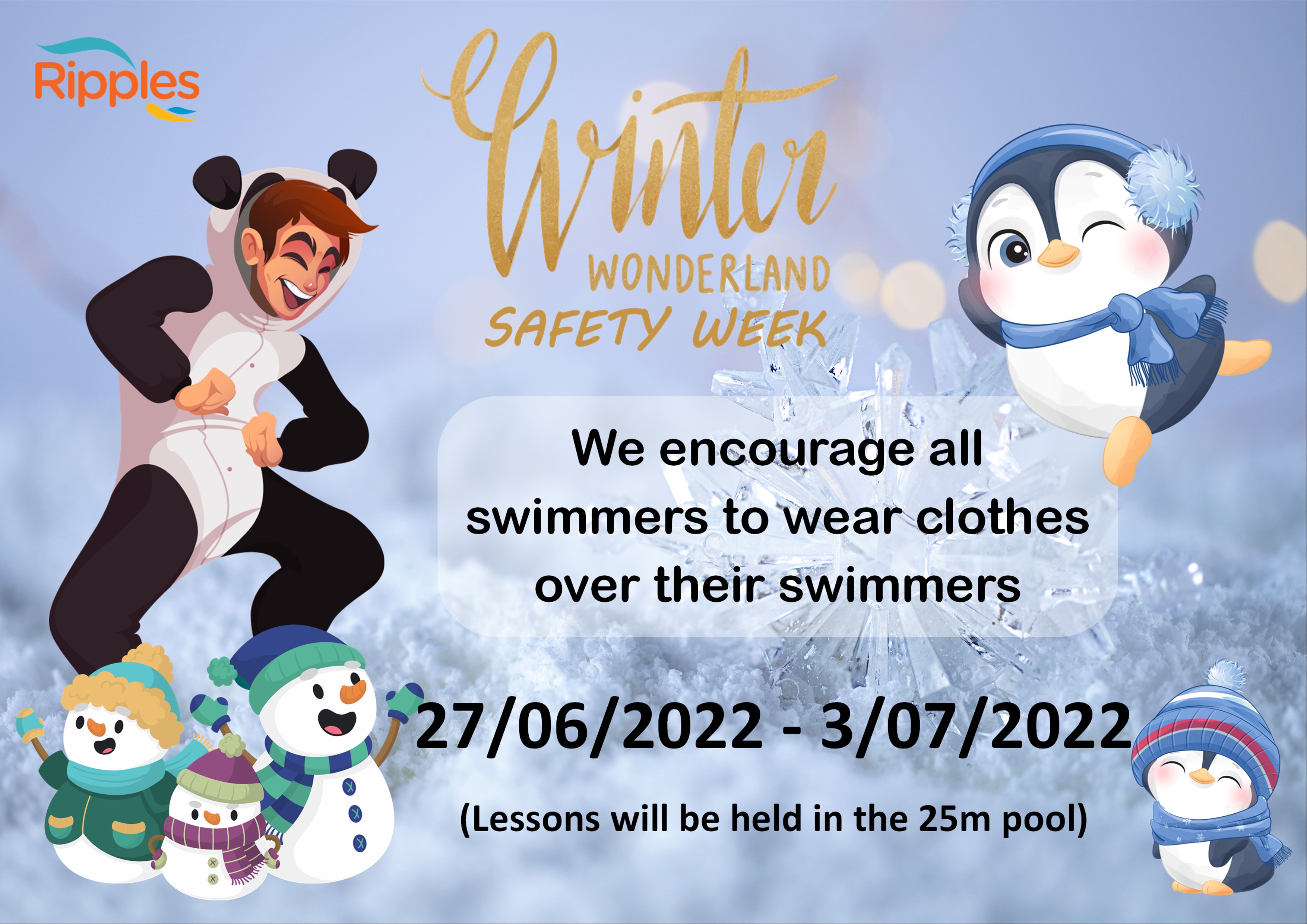 Join us for a Winter Wonderland Safety Week between 27 June and 03 July 2022 for our Learn to Swim students and Squads swimmers!
Learn to Swim Safety Week
At Ripples, we teach our students vital water safety skills that extend beyond the lesson. Safety Week is a concentrated celebration of practical water safety skills, with fun themes to encourage kids to try something new!
We will be focusing on water safety skills, including getting out of the water when fully dressed, without goggles or swimming cap - simulating an unexpected fall into water. So bring some clothes to wear over your swimmers - we encourage everyone to join us and wear winter-themed clothes. Don't forget to bring some dry clothes to get changed into after class!
Classes will be held in the deep end of the 25 metre pool during Safety week. To find your class, simply look for your lane number along the back of the pool area! It is important for all students to experience various water depths to help replicate the different water environments they may encounter.
Parent and Baby classes will remain in the Hydrotherapy pool.
---
Squads Resistance Training Week
Our Squads Swimmers will also be joining in on the fun with resistance training sessions during Safety Week!
Bring extra clothes to wear in the water during training sessions between 27 June and 03 July 2022. Like wearing a weight vest while jogging, the extra resistance from wearing clothes during training will help you feel lighter and faster next time in the water!
Kaz reccomends clothing such as shorts, t-shirts, socks, gloves, or if you'd like to bump up the challenge, why not try a long-sleeved shirt, shoes or pants!